The much awaited comprehensive Certification Program for DPOs in India from FDPPI is set to commence on June 19, 2021 as per the following tentative schedule.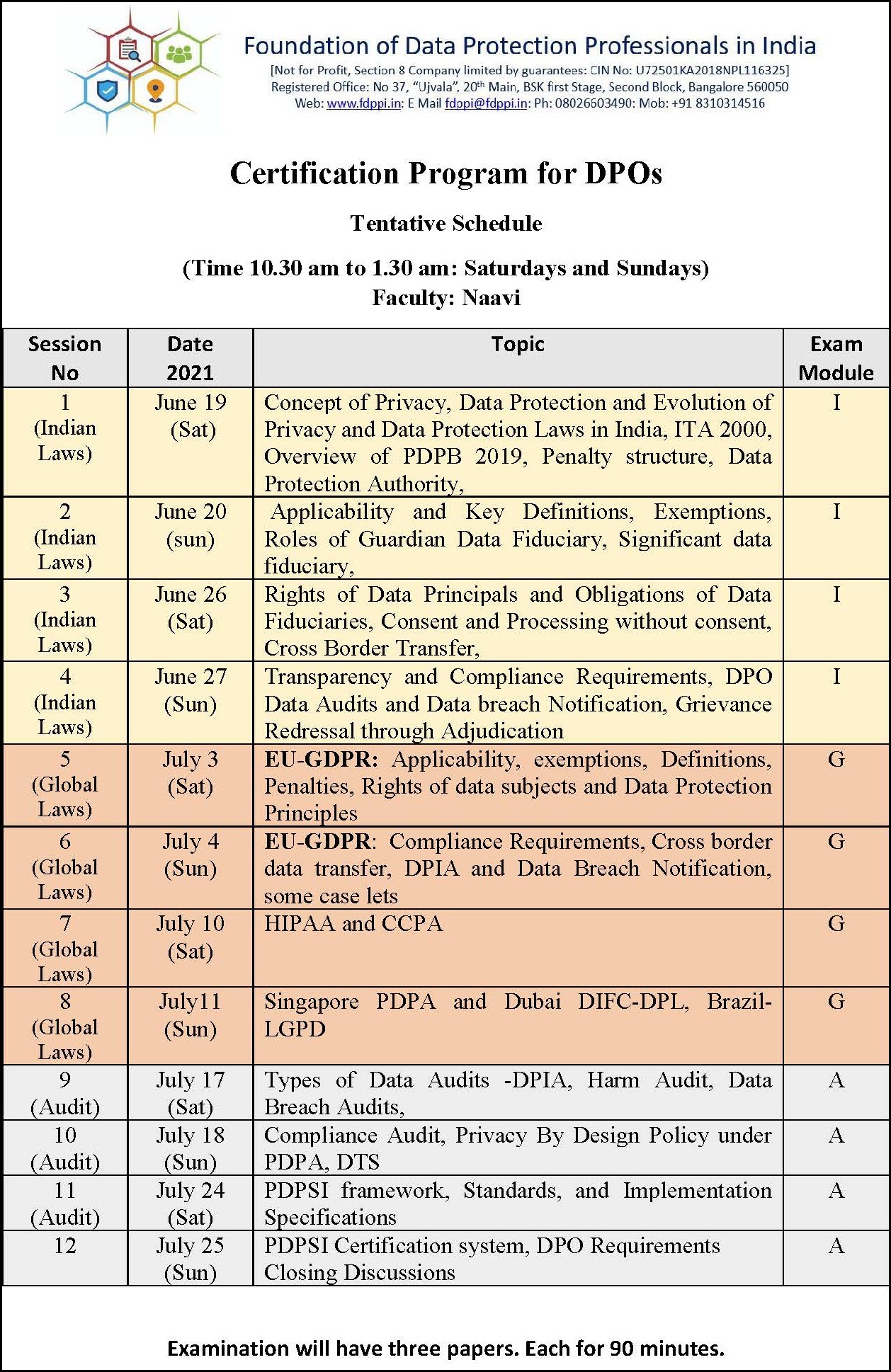 The program consists of 36 hours of online training covering the Data Protection laws of India in full detail, GDPR in reasonable detail and laws of several other countries.
The sessions would be primarily conducted by Naavi, a veteran who started virtual education way back in the year 2000 through Cyber Law College and is the founder of www.naavi.org, as well as Chairman of FDPPI.
The discussion on Indian law will be on the basis of PDPB 2019 and ITA 2000/8. As and when the Bill is passed, a free bridging session will be offered to all the participants to discuss the changes so that the participants would be fully aware of the Indian Law.
The focus of the program will be to equip a Data Protection Officer with relevant knowledge required to take on the responsibility . The participants will get a certificate as
"Certified PDP-CMS Auditor" or "Certified PDP-CMS Consultant" depending on their performance in the examination.
The online examination will consist of 3 papers which will be held  on July 31st (Paper 1 and Paper 2) and August 1st 2021. (paper 3)
PDP-CMS audit is an audit for "Personal Data Protection Compliance Management System" which will be mandatory to be implemented  by every organization in India handling personal data. Those organizations which are classified as Significant Data Fiduciaries would be required to mandatorily get an audit conducted annually by an external auditor.
The PDP-CMS audit will include Evaluation of "Data Trust Score" (DTS) which is a unique proposition of the Indian Law.
The Evaluation of DTS will be based on a unique system established by FDPPI under the Personal Data Protection Standard of India (PDPSI).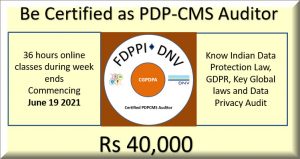 In view of the  collaboration between FDPPI and DNV, the globally recognized organization which is known for Management audits, the Certificates would be issued under the joint names of FDPPI-DNV.
The online examination will consist of thee separate online multiple choice examination for 90 minutes each. There will be two cutoff marks for certification. Participants who clear the higher cutoff would be provided the certificate as PDP-CMS Auditor. Participants who clear a lower cutoff would be provided the certificate as PDP-CMS Consultant.
Certified PDP-CMS auditors would be accredited by FDPPI under their PDPSI audit program and will be eligible to conduct audits in association with Certification Bodies who are organizations accredited with FDPPI. PDP-CMS consultants would be able to provide consultancy to organizations to prepare themselves for audit and also upgrade themselves to the auditor grade based on experience.
The total fees for the program would be Rs 40,000/- (Or approximately US$ 575/-)
The application can be completed here
Registrations are set to close on June 10, 2021.
---
 P.S: It may be noted that the Minister of Law and IT, honourable Mr Ravi Shankar Prasad in an interview on 28th May 2021 with Times now has indicated that the Government will push the passage of PDPB 2019 in the next Parliamentary session. Excerpts from this interview is available here.
It is likely that the Government would provide some time for implementation and will require around 3 months to set up the Data Protection Authority. However it appears that Jurisprudence has already developed in India to consider the principles of Personal Data Protection  discussed in the PDPB 2019 as  "Due Diligence" under ITA 2000/8. (Refer court judgements referred to in this article) .
Professionals are also aware that implementation of a comprehensive privacy program for an organization is not as simple as drafting a Privacy Policy for the website. It involves establishment of a Privacy culture in the organization which requires time. Hence prudent professionals and organizations need to  start early to retain a competitive advantage.
FDPPI hopes that professionals would take advantage of this opportunity.
For more information contact fdppi@fdppi.in.
Naavi