P.S: Admissions to this course will close at 3.00 pm IST on 9th May 2020.  Kindly send a message to Naavi if you donot receive the link for the session.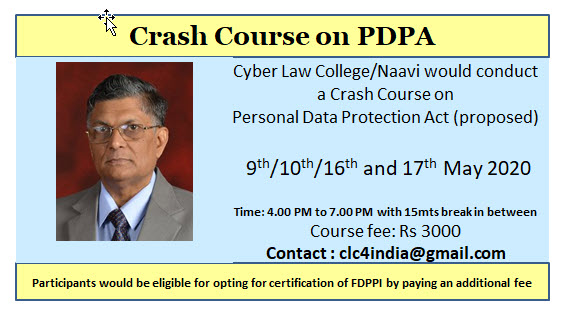 REGISTRATION CLOSED
Participants of this program would be eligible to take the Certification program from FDPPI for "Certified Data Protection Professional-Module I" with a further payment of Rs 5000/- towards membership (If they are not already members) and an examination fee of Rs 5000/- (Total additional amount payable Rs 10000/-). Contact  for more information.
P.S: Due to a request from a large group of persons, the timings have been reset to the above. Kindly excuse me for the inconvenience if some of you were preparing for the morning session.
---
Based on specific request, Naavi/Cyber Law  is conducting a crash course on Personal Data Protection Act of India from 20th April 2020 to 25th April 2020 through virtual training for 2 hours on each day.
The program will be held between 8.30 am to 10.30 am.
The coverage would be as follows:
1.Evolution of Privacy Law in India. (ITA 2000-ITA 2008-Puttaswamy Judgement.Etc.) and .Understanding the Concept of Privacy and its relation with Data Protection
2.Applicability, Exemptions, Data Protection Obligations and Data Principal's Rights
3.Grounds of Processing without Consent, Restrictions on Transfer of Personal Data outside India
4.DPA, Adjudication and Appellate Tribunal, Penalties and Offences and Grievance Redressal mechanism
5.Compliance Obligations (Transparency and Accountability Measures), Data Audits and DPO
6.Data Protection Challenges under New Technologies, Data Governance Framework, Interactive discussion and Review
The participation fee would be Rs 3000/- per participant.  Registration can be done by making the payment below:
REGISTRATION CLOSED
---
Course for "Certified Data Protection Professional": Second batch  to Commence in April 2020
Cyber Law College successfully completed the first Course for "Certified Data Protection Officers in India" by concluding the online examination process on 1st March 2020. With this history has been created with the commencement of a new era of Professionals who are ready to take on the requirements of Data Protection under the Indian law when it comes through in the next few months.
So far we only had professionals who were certified for International data protection laws and there was a need to create professionals who were more conversant with Indian law.
The Module I of the program which was concluded over 12 online sessions provided a good over view of the Indian Personal Data Protection Bill 2019 along with an exposure to the DPO's requirements of technology and audit requirements to some extent. 
In order to have another batch of professionals with the requisite knowledge of the Indian law, the next batch is being commenced on April 4th 2020. There will be 12 sessions of 90 minutes each with two sessions each on Saturday and Sunday at 11.00 am to 12.30 PM and 3.00 AM to 4.30 PM which can be attended over an online platform.
Necessary content will be provided and online examination would be held some time before May 2020.
Certification would be provided by FDPPI (Foundation of Data Protection Professionals in India). Cyber Law College would be the training partner.
The fee structure would be as follows:
Course Fee: Rs 6000/-
Course material: Rs 500/-*
Certification fee: Rs 3500/-
FDPPI Membership fee: Rs 5000/-**
One set of course material would be given free as soft copy. 
*The book "Personal Data Protection Act of India" (PDPA 2020) would be a supplementary support material for which Rs 500/- of the fee is reserved. This is optional.
**The FDPPI membership will be for those who are not currently members. 
Hence for members of FDPPI who opt out of the book, the base fee would be Rs 9500/-
For non members who opt for the book, the fees would be Rs 15,000/-
Cyber Law College in association with FDPPI is also planning further modules of the Augmented Certification program.
This would include
Module G: Including global data protection laws such as GDPR, CCPA and Singapore PDPA
Module B: Including interpersonal skill development including leadership skills, Decision making skills, Counselling skills, Mediation and Arbitration skills.
Module A: Including Data Audit skills and Data Governance skills
Module T: Including Technology skills required for a DPO.
The Module-I will be the base module of awareness which is presently based on the current Bill and would be further augmented when the Act along with relevant rules come into operation.
The five modules will be may be conducted by different agencies accredited by FDPPI at different points of time and completion of all five modules would create the "Certified Expert Data Protection Professional and Auditor".
Registrations for the second batch of Module I are now open. Persons interested may send e-mail requests to clc4india@gmail.com indicating the preferred options… whether they require membership and/or the book. Accordingly the link for payment would be sent for completion.
It is intended that there could be limitation on the number of participants and hence interested persons may kindly contact at the earliest.
(Copy of the prospectus with application form available here)
Payment options:
For Members of FDPPI: 
(a) Course fee only for FDPPI members : Rs 9500/-
(b) Cost of Book on PDPA ( if not already purchased):  500/-
(Total of (a)+(b) Rs 10,000/– )
For Non Members:
Membership fee: 
Rs 5000/- towards Foundation membership.
Option to become Supporting member at Rs 10000/- also available. (See here for details).
The total fee payable for non members(a)+(b)+(c) would therefore be
From 16th march 2020, Rs 15000/-
If the candidate has already purchased the book, they can opt out of the book and pay  Rs 14500/- .
Payment Link is available here::
Naavi
P.S: Members of other professional organizations such as ISACA would be offered a special discount. For details, kindly contact Naavi.
---
Introduction 
Started in 2000, Cyber Law College has been providing online courses in Cyber Law. It's off-line activities are focused on Corporate Training in Cyber Law, HIPAA, GDPR and PDPA.
At present Cyber Law College is not affiliated with any University. It functions only in Cyber Space and does not maintain a physical establishment.
Cyber Law College is promoted by Naavi the well known "Cyber Law Guru" of India. The establishment functions as a division of Ujvala Consultants Private Limited and focused on knowledge building.
W.E.F. 7th November 2014, Cyber Law College has started an association with Spearhead Eduonline and is offering the "Certified Cyber Law Professional" course on the platform of ApnaCourse.com featuring nearly 20 hours of video lectures of Naavi.
W E F: March 2015, a Course on HIPAA is also available on the apnacourse.com platform leading to "Certified HIPAA Professional"
Now a course on Certified GDPR Professional is also available online.
---
New Course on PDPA
A Course on Certificate in Personal Data Protection Act has also been introduced and the next batch is expected to commence from 7th December 2019.
Those who complete all the the above four courses may take the Certification exam to be introduced by Cyber Law College, the successful completion of which would provide a certificate as "Certified Indian Data Protection Professional".
Kindly register your interest by email.
---
---