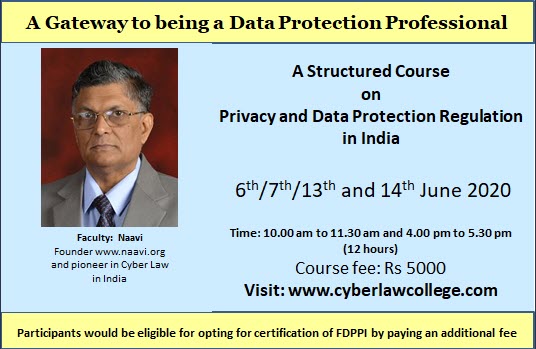 A new career is unfolding in the field of "Data Protection Professionals in India".  The subject of "Data Protection" is a techno legal domain. It can be considered as an extension of the Cyber Law expertise for legal professionals looking for Corporate careers. The IT and IS professionals can also look at this domain as an enrichment of their present expertise and acquiring an additional dimension to their current careers.
This knowledge could be a gateway for the new career opportunities in the field of Data Protection.
In the direction of preparing the professionals towards this new career, Naavi is conducting a series of educational programs in which more than 100 senior professionals have already taken part.
Over the next two week ends, Naavi is conducting another online program  which is a good opportunity for professionals to start their journey in this direction.
Probably when the Covid Lock down ends and the realities of economic disturbance hits the employment scenario, there will be need for professionals to preserve their positions by re-skilling themselves in appropriate futuristic knowledge. This is one such opportunity.
The participants of this program have the opportunity to also appear for the Certification examination of Foundation of Data Protection Professionals in India (FDPPI) and qualify as "Certified Data Protection Professional (Module-I)" by paying an additional fee subsequently.
Remember that India is already under a Data Protection regime under Section 43A of Information Technology Act. The forthcoming Personal Data Protection Act is only a new version of the "Due Diligence" and "Reasonable Security Practice" under the current laws.