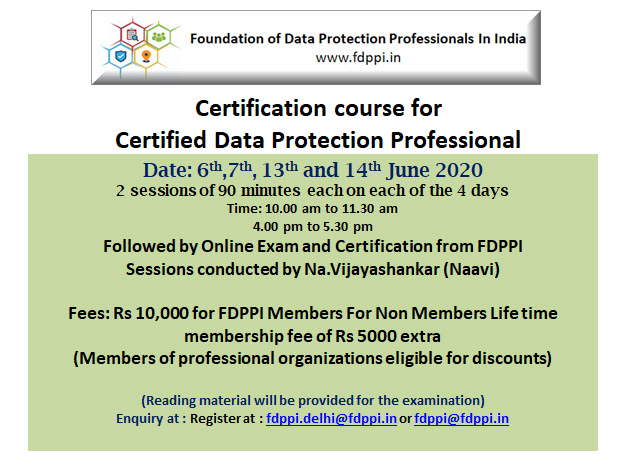 Copy of Prospectus available here
FDPPI (Foundation of Data Protection Professionals in India) has already conducted two Certification oriented training programs for CDPP-Module I. (Certified Data Protection Professional-Module I) through  Cyber Law College.
Additionally Cyber Law College has also conducted stand alone training programs on Personal Data Protection Act and some of the persons who took the program later opted to take the online examination for the purpose of certification.
The next batch of Certification oriented training will start on 6th June 2020. This will be a week end batch to be conducted on 6th, 7th, 13th and 14th of June. Each of these four days there will be two sessions of 90 minutes each, one in the morning between 10.00 am and 11.30 am and one in the evening between 4.00 pm to 5.30 pm.
The sessions will be conducted online by Naavi, the Director of Cyber Law College.
The participants will be provided necessary reading material and can take the  online examination on 28th June 2020. The online examination would be for 90 minutes.
The fees for the course would be as follows
| | |
| --- | --- |
| Course Fee | Rs 5000/- |
| Examination fee | Rs 5000/- |
| FDPPI Membership fee (lifetime) | Rs 5000/- |
| Total | Rs 15000/- |
The current program is called Module-I and is part of a 5 part "Certified Expert Data Protection Professional" which will consist of the following four more modules which will be conducted some time later independently.
| | |
| --- | --- |
| Module-G | Global Privacy and Data protection laws covering more particularly, GDPR, CCPA and Singapore PDPA |
| Module-T | Technology for Data Protection Professional |
| Module -A | Audit for Data Protection Professional |
| Module-B | Behavioural skills for Data Protection Professional |
Interested persons can register by completing the payment.
For any further information, contact Naavi.
Payment Link :
Clarifications:
The four sessions together constitute 12 hours of training. Morning and evening classes are not repetitions.
If a participant wants to opt of FDPPI membership, the option is to opt out of the examination also and only attend the training for which the fee would be Rs 5000/- only.
The FDPPI membership fee is presently a life time membership. In case of future certification modules, it is not payable again. In future there is a possibility that the membership fee may be revised upwards but the existing members may continue without additional payment.
There are certain concessions Cyber Law College may pass on for existing FDPPI members and some associate organizations. But such concessions are only for those who opt for the entire program with examination and not training alone.
Naavi